Description
The goal of MARTA is the development of a creative mixed reality production environment allowing artists, technicians and content experts to jointly design, produce, install and distribute digital mixed reality content for public spaces.
The project partners will realise three bigger subprojects as best practice examples to validate the tools, platforms and events that have been developed within the framework of this research project.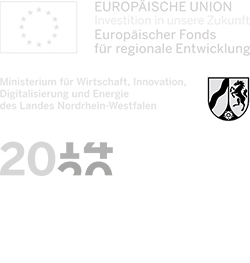 MARTA
is a 3-year-project (04/2018 - 03/2018) which is funded by the Ministry of Economic Affairs, Innovation, Digitalization and Energy of the state of North Rhine-Westphalia and the Eurpopean Regional Development Fund (EFRE).
cooperation
Hochschule Düsseldorf, tennagels Medientechnik GmbH, NRW Forum